As the nation's R&D centre in ICT, the role of MIMOS will be critical in shaping Malaysia into a Digital Economy with positive contributions to global trade through innovative, technological solutions.
MIMOS endeavors to revolutionise and transform the business landscape in the country through a paradigm shift in the local industry. Our efforts have been to help local technology consumers move to the next level of entrepreneurship to emerge as the new community of technology producers. This would mean, supported by MIMOS, local industry players would operate over 70% of their own equipment and engineering services rather than relying on foreign supplies. This will further enhance their global competitiveness as well as positioning in international markets.
In the commercialisation ecosystem, for instance, MIMOS plays a crucial role in offering its expertise and support to significantly reduce the risk mangnitude of local industry players and technology recipients.
MIMOS is well-positioned in the industry to help with Productisation, Business Planning, Product Lifecycle & Roadmap, Manufacturability, Regulatory Approval, and Branding & Distribution Channels. This provides an added advantage and impetus to the technology recipients, with low technology risk for successful commercialisation and market creation.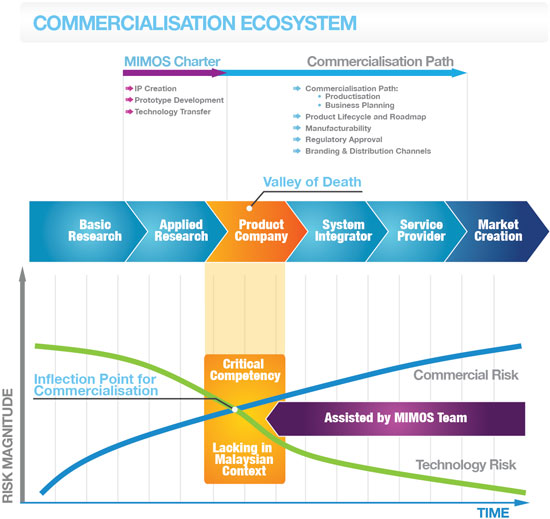 Technology Transfer
MIMOS endeavors to bring about a 'Culture of Innovation' and 'Shared Services' in the country, raising industry potential and competitiveness. When you subscribe to MIMOS' Technology Transfer process, you are supported with end-to-end services that include  technology training, maintenance, and performance monitoring for efficient and sustainable implementation.  You can also benefit from the MIMOS Technology Incubation Program (Mi-TRIP), which offers expertise in developing and marketing products powered by MIMOS technology.
Technology Incubation
MIMOS is embarking on MIMOS Technology Incubation Program (Mi-TRIP) with the objective to accelerate the growth and capabilities of homegrown ICT businesses towards growing a globally competitive local industry.  Mi-TRIP will incubate homegrown ICT businesses to develop products based on MIMOS technology, accelerate market expansion and capacity building of SMEs and ensuring successful delivery of ICT projects by Technology Recipients.  MIMOS will incubate Technology Recipients with guidance on development and possible subcontracting of development, maintenance and support activities.
Market Access (2010-2011 1.6B)
MIMOS and its success is also determined by key parameters of 'market outreach' and 'commercial impact' through the effective deployment of innovative platforms and applications powered by MIMOS technology. In 2011, MIMOS created a market funnel of more than RM1billion, which translates into 32 RMK9 Projects benefitting 25 companies and 14 Government Ministries, subscribing to MIMOS technologies. Our journey continues, while we contribute to improved technological capabilities of the industry as a whole, through improved market access.