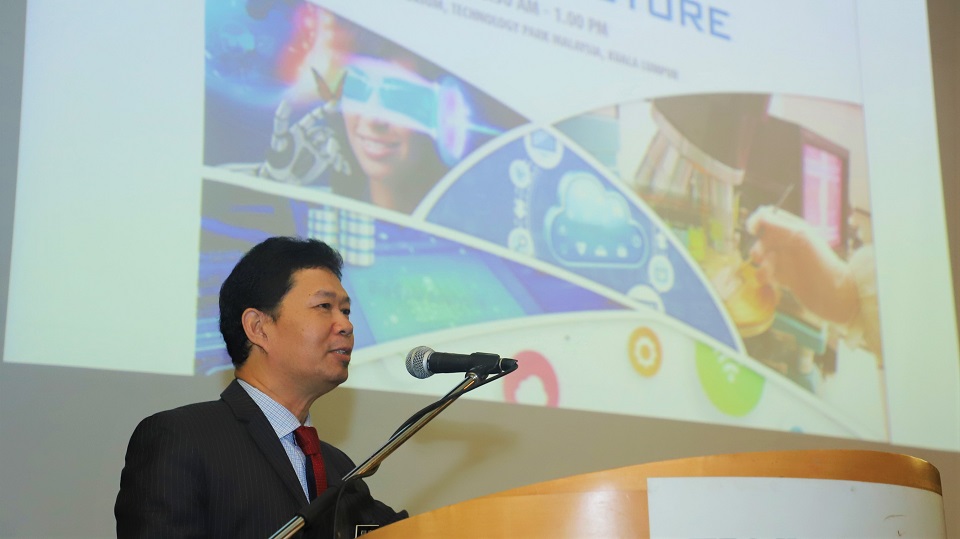 On May 15, MIMOS hosted a forum on Fourth Industrial Revolution (4IR) aimed at giving government officials glimpses on how technology applications can create real value in unlocking the potential benefits and addressing challenges associated with 4IR.
Themed 'Our Bridge to the Future', the Forum saw enlightening presentations from Works Ministry; Health Ministry; Higher Education Ministry; Malaysian Administrative Modernisation and Management Planning Unit (MAMPU) and Malaysia Remote Sensing Agency, preceded by an overview by MIMOS.
In the 'Convergence of Technologies in 4IR' overview by MIMOS, Chief Technology Officer Thillai Raj Ramanathan highlighted the application of multiple MIMOS-developed technologies in various projects across strategic sectors such as Healthcare, Agriculture, Transportation, Environment and Public Safety. Technologies applied include Internet of Things, Artificial Intelligence, Big Data Analytics, Edge Computing and Simulation, among others.
The Malaysian Health Data Warehouse (MyHDW), for instance, is one of the projects developed by MIMOS in collaboration with the Health Ministry using the convergence of Cybersecurity and Cloud and Edge Computing. The complex data warehouse system has the capability to generate reports, analyse and disseminate information through a dashboard.
The Forum was wrapped up with participants taking home new insights and understanding of emerging technology application that government agencies can use in policy and development planning.
4IR: OUR BRIDGE TO THE FUTURE
15 MAY 2018
TECHNOLOGY PARK MALAYSIA
PRESENTATIONS
Convergence of Technologies in 4IR
Thillai Raj T. Ramanathan, MIMOS
Government Online Services (GOS) as Gateway to 4IR
Dr Suhazimah Dzazali, MAMPU
Intelligent Transport System
Dr Jamilah Mohd Marjan, Ministry of Works
Remote Sensing for Paddy Cultivation Management
Zuraimi Suleiman, Malaysia Remote Sensing Agency
Uberisation of Health
Dr Feisul Idzwan Mustapha, Ministry of Health
Democratisation of Knowledge
Prof Madya Dr. Marlia Puteh, Ministry of Higher Education