Digitalisation has helped Malaysia push forward in many ways.  In most examples, digitalisation significantly contributes to increasing productivity and operational efficiency, streamlining services, minimising paper records, and making more intelligent decisions.
MIMOS has been providing technology solutions for Malaysia's Digital Government initiatives in various strategic sectors.
The range of products, services and solutions are constantly upgraded in keepingwith the changing needs of the client. Here are three of MIMOS' Digital Government solutions.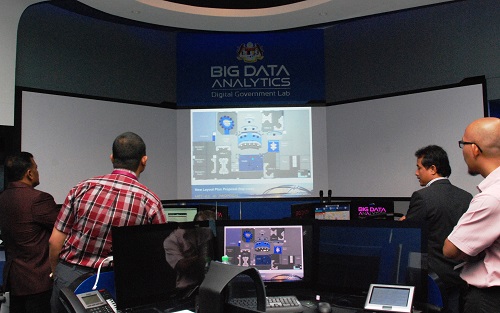 1.  SECTOR: Healthcare
TECHNOLOGY SOLUTION: Malaysia Health Data Warehouse (MyHDW)
The digitisation of multi-channel healthcare data enables evidence-based planning through the sharing of data collected on a secured inter-agency platform. This in turn enables accurate projection and forecasting for the ever-changing health landscape.
Preventive healthcare activities can be customised and delivered to the public to maintain a healthy population.  The data warehouse provides necessary on-time information to related agencies and Government staff in strategising and providing better healthcare services, plans and programmes.
The end result is enhanced national healthcare that also facilitates citizens to be informed persons to make better health choices.
2.  SECTOR: Environment
TECHNOLOGY SOLUTION: Natural Disaster Forecasting and Warning System
With this system, authorities in charge of rivers, reservoirs and drainage are able to forecast and detect forthcoming shortage or excess of water, earth movement etc. 
Advanced alerts in flood and other natural disaster-prone areas can help in protecting lives, mitigating property damages and other losses. This system quickens the crowdsourcing of information from the public and Government and channels accurate early warnings and alerts to the potentially affected people and connects them to community organisations.
It also facilitates affected individuals and groups to prepare for measures such as evacuation and rescue.
3.  SECTOR: Public Safety
TECHNOLOGY SOLUTION: Automated Vehicle Licence Plate Recognition System
Administrators of government buildings and restricted areas are able to secure their premises from unauthorised vehicle entry and exit round-the-clock.  Movement of assets through vehicles are systematically controlled as only registered vehicles are allowed entry.
Traffic violators can be quickly identified and crimes involving stolen vehicles can be averted. The public can experience seamless and secured vehicular access through contactless access across gated roads and highways, as well as automated parking facilities.
Deployment of this system in residential and commercial areas can enhance public safety, improve security and reduce crime in terms of precision in vehicle identification as well as robust access management and control.
Find out more of MIMOS' solutions for Digital Government at the National Innovation and Creative Economy (NICE) Expo 2017, to be held from Oct 12 to 16, 2017 at Technology Park Malaysia, Kuala Lumpur.