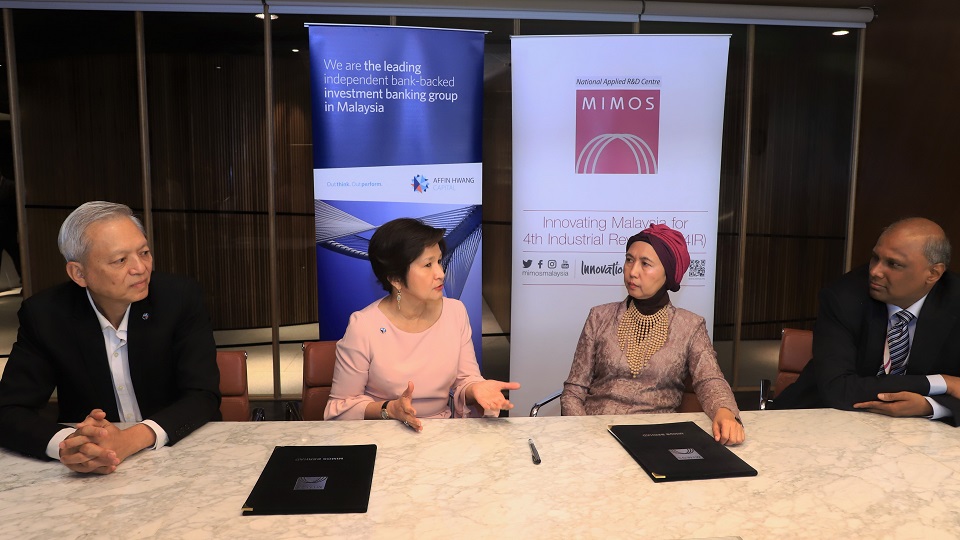 Spurring value for capital market| On June 21, MIMOS formed a strategic collaboration with leading investment banking and asset management group Affin Hwang Capital (AHC) to develop a digital analytical platform for the Malaysian capital market.
Under the agreement, both parties will develop a high-speed, intelligent and automated analytical platform to screen undervalued small and mid-cap stocks, which will eventually accelerate the development of innovative products in the investment banking space. The partnership is expected to make banking more cost effective and competitive. The development of innovative digital analytical tool will also benefit industry, local entrepreneurs and SMEs.
The collaboration is in line with strategy enablers outlined in Industry4WRD, where the financial sector plays a key enabling role. Industry 4.0 technologies and solutions such as Robotic Process Automation (RPA), Artificial Intelligence (AI), Big Data, and Blockchain for manufacturing can be applied in the stock market.
For instance, an RPA solution developed for back office processes in a manufacturing plant can be adopted to ease staffing needs in certain areas of finance such as screening of stocks, news and events. With operations automated, finance would be positioned to double down on providing business insights and services to deliver greater value to the business.
MIMOS' work on FinTech has begun since 2017 with focus on the use of security software and intelligent tools to process a higher volume of data, and facilitate the usage of Regulatory Technology (RegTech) to enhance regulatory effectiveness. The collaboration with AHC further affirms MIMOS' commitment to promote advanced FinTech in Malaysia.
Related news
AHC and MIMOS develop a digital analytical platform
Affin Hwang Capital, MIMOS perkenal platform analisis digital pasaran