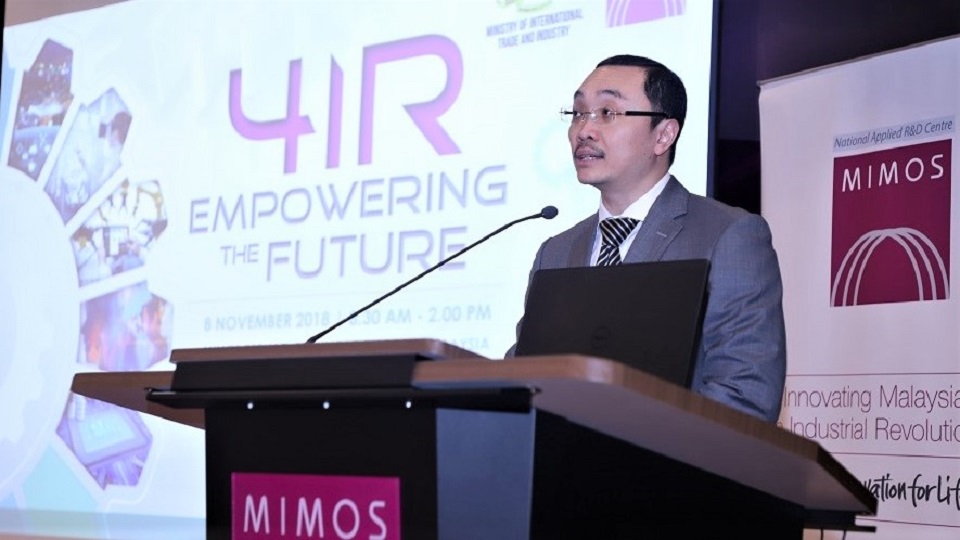 The Fourth Industrial Revolution (4IR) awareness programme at MIMOS reached feverish pitch on Nov 8 with the Empowering the Future seminar, having brought together experts from across the 4IR ecosystem – scientific and engineering; education, research, and human resources communities – to share their ideas and experiences on how to navigate through the waves of the new revolution.
The seminar continued the agenda of welcoming opportunities and addressing the risks and challenges of the industrial revolution.
With a full house attendance at MIMOS' Tengku Dr Mohd Azzman Shariffadeen Auditorium, the seminar was officiated by Ministry of International Trade and Industry (MITI) Deputy Secretary-General (Trade) Datuk Norazman Ayob, who represented Minister Datuk Darell Leiking.
In his keynote address, Darell said MIMOS as a national technology provider could play an important role in the development of the Third National Car project such as in improving vehicle performance by creating systems to avoid accidents or hazards.
He also said Blockchain technology could revolutionise how international trade is conducted to generate greater confidence in consumers.
Speakers at the seminar included MIMOS Senior Staff Researcher Ir Dr Hafizal Mohamad; World Startup Festival Regional Director, Fazil Irwan Som; SG Education Group Founder and Chairman, Dato' Sri Ganes; Human Resources Ministry's Centre for Instructor and Advanced Skill Training (CIAST) Senior Programme Coordinator, Dr Aziyati Yusoff; Naluri Hidup Founder Azran Osman-Rani; and Nadi-Ayu Technologies Chief Executive Officer Nadira Mohd Yusoff.
The 4IR awareness programme at MIMOS will continue with more events, resource groups and sharing activities in 2019.
Related news:
MIMOS can play role in 3rd national car, says MITI
Third national car to create jobs, promote vendor development — Darell
4IR Seminar: 3rd national car creates jobs, promotes vendor development (TV news, Malay)