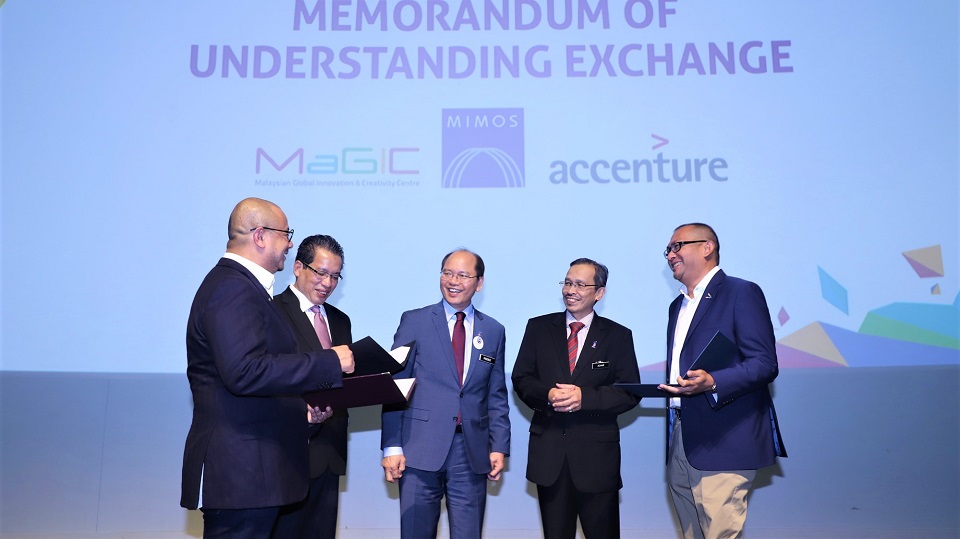 In a move to further drive innovation-based entrepreneurship programmes, MIMOS together with consulting firm Accenture have signed a Memorandum of Understanding with the Malaysian Global Innovation and Creativity Centre (MaGIC) in Cyberjaya on 17 Jan. The event was witnessed by MOSTI Minister Datuk Seri Panglima Wilfred Madius Tangau.
MIMOS CEO Ahmad Rizan Ibrahim said that as a national R&D centre, MIMOS has been defining and developing technology platforms for Smart City initiatives. He said that MIMOS had also established an open innovation framework for the development of technologies by industry researchers, research institutions and universities, which can be leveraged by startups and technopreneurs.
"Our labs offer an open but safe and controlled sandbox environment for Government data where ideation, innovation and experimentation can take place without cyber security worries and without the need for big investments," he said.
With the MoU, MIMOS became a member of MaGIC's Corporate Entrepreneurship Responsibility (CER) network, a programme that connects corporates and entrepreneurs with opportunities to leverage each other's expertise.
Read the new coverage
MaGIC entrepreneurs can now use facilities at MIMOS
MaGIC inks MoU with 3 parties to drive entrepreneurship collaboration