26 June 2023, Kuala Lumpur – MIMOS Berhad and Asia Gas Hub Sdn Bhd have exchanged a Memorandum of Understanding (MoU) to explore a collaboration towards developing a digital facilitation and gas trading platform for Malaysia that aims to establish the nation as a regional hub for gas trading. By leveraging their complementary expertise and resources, MIMOS and Asia Gas Hub will explore advanced technologies and innovative solutions to enable seamless and efficient online-based gas trading operations in the country.
The development of the Malaysia Gas Xchange (MGX) platform will create a transparent and cost-effective environment for gas trading, enhancing Malaysia's energy security over the long term and improving new investment into gas infrastructure and supply. MGX also holds the potential to drive economic growth, attract foreign investment, and contribute to Malaysia's economic diversification and global competitiveness.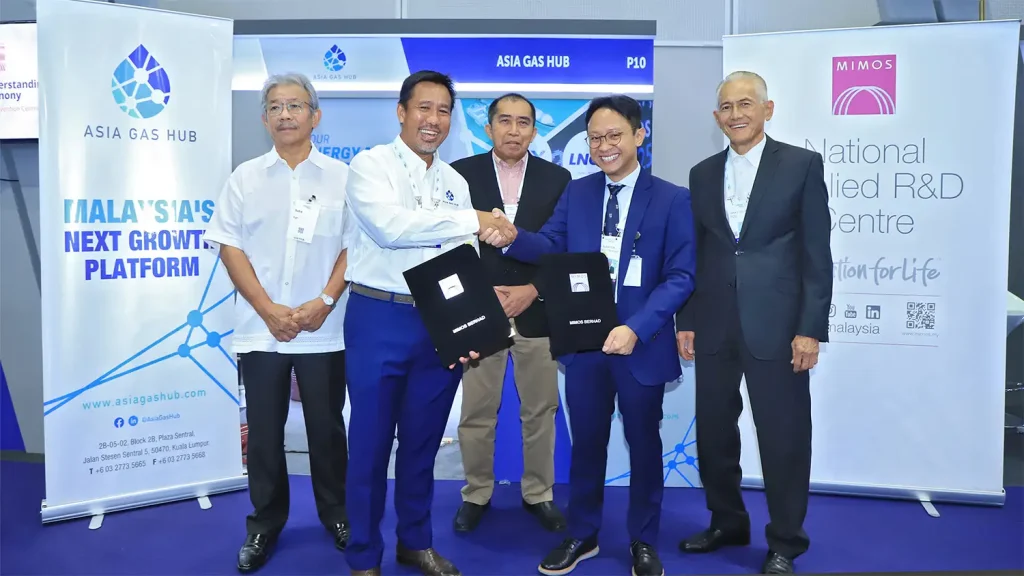 Dr Iskandar Samad, MIMOS President/CEO said, "We welcome AGH's efforts that align to the liberalisation of the gas marketplace in view of long-term energy security for the nation, and this collaboration provides an opportunity to explore the use of local technology options in big data analytics, IoT metering, and blockchain-based smart contracts to deliver its objectives."
Faris Mustaffa, Managing Director/CEO of Asia Gas Hub, said "We are grateful for MIMOS' expertise and support in our efforts to transform the Malaysia gas market, improve access to imported LNG, and provide transparent and competitive market prices through the platform."
– End  –
---
About MIMOS Berhad
MIMOS is a strategic agency under the Ministry of Science, Technology and Innovation (MOSTI) and a premier innovation centre in Semiconductors, Microelectronics, and ICT technologies, contributing to Malaysia's socio-economic growth through patentable technology platforms, products, and solutions.
As a centre of research excellence, MIMOS R&D activities currently focus on Semiconductors for Future Electronics (CSFE), Microelectronics and Power Systems (CMAPS), Advanced Manufacturing for Future Industry (CAMFI), and Smart Nation technologies. MIMOS continuously enhance its collaborations with existing strategic partners, explore new opportunities with potential partners, and develop new technology companies and business-oriented technology venture organisations. MIMOS also maintains its R&D of advanced technology, explores the development of global technopreneurship, and cultivates an attitude of trust, innovation and high performance.
About Asia Gas Hub Sdn Bhd
Asia Gas Hub is an independent energy market solutions provider, fuelled by passionate, experienced, and qualified experts in the oil and gas industry, digital project management and equity, financial & commodity exchanges. With over a century of experience, we have in-depth insights into the whole ecosystem, access to a vast network and a wide knowledge structure to formulate innovative solutions to overcome challenges. We aspire to be the preferred energy market solutions partner in the region